April 3rd, 2014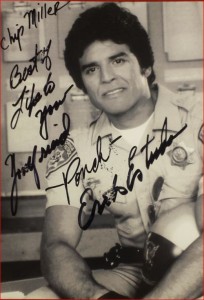 April 2nd, 2014
Voter education is essential to ensuring voters are well-informed and can effectively exercise their voting rights and express their political will on Election Day.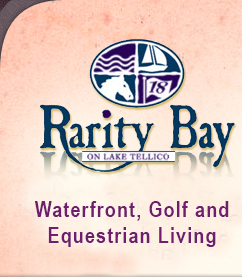 March 19th, 2014
Ran across this site tonight and found the numbers interesting….thought you might also.
March 9th, 2014
Thank you Judge for the great sign location!!  It is hard to miss! Thank you Tim Brewster for installing and keeping me safe! I appreciate it.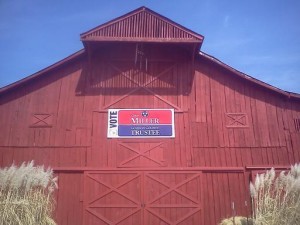 March 4th, 2014
Thank you Philadelphia Elementary for allowing me to be part of such an incredible program! You truly are an "Exemplary School"!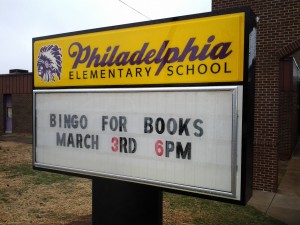 March 3rd, 2014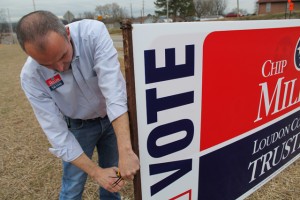 With the May primary petition deadline closed and the Loudon County Election Commission officially certifying names on the ballot Thursday, campaigning has started to ramp up for candidates old and new.
Registered voters will get the opportunity to pick from 36 candidates in hopes of filling the 18 seats up for election when the county's week-long early voting begins April 16 and rolls up to Election Day on May 6.
County resident Van Shaver said he chose to run for office to provide some experience on a Loudon County Commission that finds itself losing three incumbents. Commissioners Roy Bledsoe, Brian Jenkins and Don Miller have opted not to seek re-election. Bledsoe, longtime commission chairman, leaves after 48 years of service.
"Well, I've served on county commission and I've served on the (Loudon County) school  board and you've got a number of retirements this time around," Shaver said. "A lot of older, experienced folks are leaving and I guess I feel like I could maybe bring a little bit of experience back to the commission having been there and done that before."
Shaver said he served on the commission in 2002-06, on the Loudon County Board of Education in 2008-12 and ran for county mayor in 2006. Once candidates are certified on the ballot, Shaver said he will begin making a push for campaigning, going door-to-door and sending mail-outs.
If elected, Shaver said he will eye a tighter county budget.
"I'm a well-known extremely fiscal conservative person, so my interest is always going to be in budget expenditures, spending money, how we're spending the money, what we're spending the money on, if it's in the best interest of the taxpayers, if it's — you know, when we spend the money ourselves if it was our money we were actually putting out," Shaver said. "Mine's really about small government and tight, tight budget."
Running against Shaver for District 5, Seat B of the commission is Marvin Stanley and incumbent Sharon Yarbrough.
Rollen "Buddy" Bradshaw II is putting his name on the ballot in May in hopes of cutting county governmental spending. Bradshaw will be running against incumbent County Mayor Estelle Herron.
"I think that we spend way too much money," Bradshaw said. "Our county government's going at a pace that I think is unacceptable. I think we can do things better and I think we need better spending, not more spending for our county. … Where can we get it done, where can we do something cheaper? Where can … (we) cut the nickels and dimes out to where we just rein it in really?"
The first-time candidate began campaigning in January, speaking with people and placing signs in yards. So far, the reception has been well received, he said.
"I think people are tired of the big spending and the economy the way it is now, folks are having to really watch their money and I think they expect their county government to do the same," Bradshaw said.
Sherri Colvard will be running for county trustee.
"I have 20 years (of) accounting experience and I believe that I would bring more knowledge from that experience to the trustee office," Colvard said in an email.
After being appointed the job by county commission in January 2013, Loudon County Trustee Chip Miller will be seeking his first full term in office. Miller said campaigning began in November with a fundraiser of about 130 people at the WindRiver Manor House, along with a few small get-togethers. Campaign signs have been scattered throughout the county. Placements of yard signs should begin about the second week of March, with the possibility of locating signs at a "couple of strategic places" earlier, he said.
"I'm doing door-to-door, trying to — obviously in Loudon County it's tough to get to every door, but we're going to make an attempt to get to as many doors as possible," Miller said. "We're also networking through social media and … we have a list of other accomplishments that we hope to get done for the campaign. … We plan on covering the whole county, but right now we've got them in folk's yards, we've got them in businesses, we're trying to cover all areas of the county."
Miller estimated his election campaign will cost about $20,000. If re-elected, Miller said he would like to see his staff continue to provide "professional, efficient and courteous" service to residents.
"So we try to be professional, efficient and courteous to all taxpayers and work with them to solve any problems," Miller said. "We also administer the tax relief program, so we deal with a lot of elderly or disabled folks. We try to work with them and have good constituent interaction."
Herron's second political campaign as county mayor kicked off Saturday at Highland Park Ruritan, with about 183 people attending, she said.
"When you're running for the first time, you don't have that name recognition," Herron said. "So, for as many times as I have run now, like I said this will be my fifth, going to be my fifth campaign, your name recognition is already out there, you're not trying to establish that. I'm probably not going to put my signs out until the middle of March. People get so, you know, we all get tired of seeing them. So I'm going to wait until about 30 days prior to early voting."
Herron began her tenure as county trustee in 1998 and stayed in that office until 2010 when she ran for county mayor.
Gaining more evening daylight when the time changes in March will prove beneficial for campaigning, Herron said.
"Right now's (a) real hard time to campaign," she said. "You hit this subdivision and you may hit that subdivision. You're just going to strategically (campaign). You may go out on a Saturday hitting who knows how many, it just depends on how it rolls."
Herron listed a number of issues she hopes to help tackle in her new term, including reworking the Loudon County Planning and Codes Enforcement Office, hiring a solid waste director and expanding Loudon High School to accommodate more classrooms.
"The next thing I see on the school end will be adding a wing out here at the high school, and then the only other thing I see is the jail," Herron said.
For a full list of candidates, view the "May 2014 County Primary petition information" section under the "Information for Voters" tab at http://www.loudoncountyvotes.com.
Author: Jeremy Nash
Source: News-Herald
February 7th, 2014
"The PNL Companies" out of Texas has apparently acquired golf course community Tennessee National!
Visit www.pnlcompanies.com to learn more about the asset management company.

February 4th, 2014
The small town of Greenback is steeped in history and local residents are continuing efforts to preserve that legacy for future generations.
The long-standing Greenback Depot is officially considered a historical site. The Tennessee Historical Commission announced last week that the depot would be placed on the National Register of Historic Places.
Louisville and Nashville Railroad built the Greenback Depot in 1914.
East Tennessee Preservation Alliance board member Carolyn Peck said the depot was used to organize passengers until 1968 and freight until 1978.
Peck said the Greenback Historical Society had been trying to get the depot nationally recognized since about 2008. As a longtime Greenback resident, she said she was happy the building finally got its recognition.
"People kept saying to me, 'I wish we'd do something about the depot,' because it looked like — we started about — I finally a couple of years later, I decided people were going to keep asking me that (and) unless I did something, nothing was going to happen. So along 2008, 2009, I started publicizing it and talking to the owner whose name was (Larry) Alley at the time."
The Alleys eventually sold the property to Greenback resident Ron Edmondson for $200,000 in March 2012. With the help of Greenback volunteers, Edmondson worked toward restoring the depot to its original state. Renovations cost about $165,000, he said.
Author: Jeremy Nash
Source: News-Herald
"He's (Edmondson) told me way back in the beginning that what he wanted to do was restore it so it was the center of Greenback and spark Greenback to make other improvements, to want people to be proud of their community and make other improvements," Peck said with tears in her eyes. "I get teary real easy right now."
For Edmondson, revamping the building is about preserving a majority of the original infrastructure.
"My goal is that at some point in my life when I (finish) this thing, when I get the rest of out here done, when I get the little things done, I am going to make a very strong effort to see that the state of Tennessee, the county of Loudon, the city of Greenback, that somebody will take that property with written agreements that it will remain in the condition that they found it when we signed that piece of paper," he said. "I'll be happy to do that."
There remains work to be done. Despite doing a number of renovations, like removing a false second story within the building and adding on to the back of the depot to relocate the restrooms, Edmondson said there were "little things" that needed to be finished, such as replacing phone cables and fixing drainage pipes.
"This thing needs to look like it looked the day that Squire (William H.) Jones came in and said it's done, you know?" he said. "So that's what I'm — that's my goal. As long as I've got something to keep me busy, I'm happy."
According to the National Register of Historic Places application form, Jones was the depot's station agent from 1910 until he died in 1954. He was the deputy county clerk and squire, and he sold vehicles, hunting and fishing licenses and marriage licenses. He officiated more than 3,500 marriages with many ceremonies occurring in the Greenback Depot.
Peck said the facility was host to a number of community events including birthday parties, holiday parties and anniversaries.
"Everybody has been so excited and so many things have been scheduled to go on in here — I mean, birthday parties, anniversaries, Thanksgiving parties, Christmas parties and, you know, things like that that people want to use it for," she said. "We have a Halloween festival downtown the last Saturday in October and they moved it — well, it's outside but also inside in the depot and that's getting bigger every year."
Long-term goals
Upon finishing renovations, Edmondson said he hoped to use the depot as a city museum.
"We need to be prepared and we need to have this town to where when people drive by the road here and turn around and look, they say, 'Holy crap, did you see that Indian (statue)?' 'No, I didn't see that Indian, but I saw that elk (statue) back there. Turn around and let's go look,'" Edmondson said. "They pull back in here, they walk in, they say, 'There's a museum in there. Let's go in there and look at it.'"
Paul Bailey, GHS member, said Edmondson's work positively impacted city residents.
"If you're not familiar with the town, this looks a lot different today than it looked two, three years ago," Bailey said. "This was all run down, I guess is the best way to describe it. None of this was mowed or anything, so it's changed a lot and it's all I think because this (Greenback Depot) came back to life and people decided to make things in their own way a little better."
As an owner of seven properties in Greenback, including the old Gorley's Grocery Store lot, Edmondson said he had plans for the vacant land. He said he hoped to rebuild Gorley's with "plenty of parking" and picnic tables beside the store for the community to use.
Preservation is an important factor to consider, Edmondson and Bailey said.
"Can you read those letters?" Edmondson said, pointing to acronyms on the wooden Native American statue beside Morganton Road. "Know what it stands for? Greenback High School. That's how important it is to me. Kids is all that's important in this world. Me and this old guy's (Bailey) going to get older and older and older, and my one hope is that there'll be somebody that'll have the same attitude toward this town and toward the things in this town that have got it to where it's at right now."
February 3rd, 2014
Buoyed by the popularity of two main fishing tournaments, along with a yearly array of arts and crafts events, festivals and firework shows on the lake, tourism spending in Loudon County has continued its upward climb, with 2012 marking the third increase in a row.Although concrete figures are not in yet, officials predict 2013 will be the fourth.
"I think if we can continue to grow the amount of tourists that come to our community as well as to increase the dollars they spend while they're here, I think as long as we're making progress that's accomplishing a lot," Clayton Pangle, executive director with the Loudon County Visitors Bureau, said.
Tourism spending in Loudon County reached $45.50 million in 2010, with $1.17 million generated in tourism-related taxes, while spending eclipsed the $50 million mark in 2011. This past year saw a more modest increase to $51.93 million, with $1.29 million in tax receipts related to tourism.
'Main niche'
Mark Matlock, Loudon County Visitors Bureau board of directors chairman and owner of Matlock Properties, said even with a recovering economy, people are still going out and spending money on tourism.
"I know that people still get out and move about and travel and spend money," Matlock said. "I like to think some of that's due to our marketing efforts. We actively try to pursue and have been pretty successful at luring these professional fishing tournaments, and when they're in town that's something that you can tangibly see because they're here buying fuel, staying in hotels and eating in restaurants."
Pangle said the two main fishing tournaments drew about 200 people each in 2013. Loudon County has already lined up two tournaments in 2014, the Cabela's King Kat Classic in April that officials anticipate will draw up to 200 people, and a Morristown Marine tourney in September that could draw as many as 300, Pangle said.
Also each year, canoeing enthusiasts flock to Loudon County from 26 states and two foreign nations, Canada and Germany, for the Ain't Louie Fest in March.
Pangle said boaters typically use Loudon as a central location for whitewater opportunities in the region.
"It's an interesting thing," he said. "They stay in Lenoir City even though we don't have any whitewater in Loudon County. They use it as an operational base, and for seven days they go out and do their canoe runs within an hour and half drive of here in all four different directions because within an hour and a half of here we've got probably the best whitewater in the eastern half of the United States."
Although he couldn't release the name because of ongoing negotiations, Pangle said officials with a "big name" tournament have expressed interest in coming to Loudon in 2015.
Klair Kimmey, vice chairwoman with the Visitors Bureau board, said the organization has worked with counties like Knox and Sevier on fishing tournaments in the past.
"We have found that tourists, they don't recognize county lines, so we will partner with anybody that is willing to partner with us," Kimmey said.
Pangle said one example is Loudon County's promotion of sites in Monroe County and vice versa.
"Monroe County doesn't have the hotels, for example, but they do have historic Fort Loudoun and Sequoyah (Birthplace Museum)," Pangle said. "So we promote those as things for people to see while they're here. It doesn't take away from dollars spent in Loudon County, but it helps us to have that resource that people can go to visit while they're here."
During the Professional Anglers Association tournament this past year, Loudon County partnered with Knoxville on generating funds to hold the event on the lake.
"We put up $10,000 from Loudon County's share, and $20,000 came from Knoxville, and yet the majority of folks stayed here because this was where the tournament was held," Pangle said, noting that Loudon has worked with Jefferson and other counties that draw fishing tournaments.
"We swap information about tournaments so that they may host somebody that was there one year, and we might be lucky enough to get them the next year or vice versa, so we try to keep them in East Tennessee," Pangle said.
Matlock said while Visitors Bureau officials discuss other opportunities for attracting tourists to Loudon other than fishing tournaments, the angling events have been the main draw recently.
"That's probably our main niche that we're looking at currently," Matlock said. "We sit and brainstorm quite often about possible ways of doing that and other venues. We've been associated with other events in previous years, but as far as a large scale (event), that's a huge resource that we have other areas don't have, the lakes that are close by, so we might as well capitalize on that."
Variety of attractions?
Matlock said in years past the Visitors Bureau has considered other avenues for drawing people to the county, including partnering with Blount County on a billboard campaign advertising the region as a "lakeway" to the Smoky Mountains.
"We were just sort of the pass through route on that deal because the main destination would, of course, have been the Smokies, but the lakes are something that we can be the destination on," Matlock said.
The Visitors Bureau also held a 5-kilometer run along the lake a few years ago that drew about 75 participants each year in Matlock's estimation, but that event is no longer held, noting that "plenty" of visitors would come to the county and compete in the run but would leave right afterward.
"People would show up, but it seemed like a struggle," Matlock said. "… It was one of those things we wished we could have kept it going, but we have to use our resources in the best way."
Pangle said two main agritourism businesses, Sweetwater Valley Farm and Tennessee Valley Winery, continue to be a draw for the county, along with numerous trail networks like the East Lakeshore Trail, the Rock Springs Park Trail and others. The county is also part of the Tennessee Department of Tourist Development's Discover Tennessee Trails and Byways program featuring stops along the Rocky Top trail.
When University of Tennessee students visited the county in late 2013 to do some design work to potentially renovate downtown Lenoir City as part of Plan East Tennessee, the students included a trail connecting Rock Springs Park Trail and the Tennessee River, Pangle said.
He said officials with WindRiver, just south of the Tennessee River bridge, had also agreed to allow part of the East Lakeshore Trail to pass through the resort, paving the way for a possible connector if local officials are able to persuade the Tennessee Valley Authority against razing the bridge atop Fort Loudoun Dam once the new U.S. Highway 321 bridge is complete.
"If that happens, and if the bridge connector happens for a walking trail, you could see then you would be able to link up some trails in Lenoir City to the bridge and at least getting across the river to use the lakefront trail," Pangle said.
Residual sales
Jason Reagan, manager with Comfort Inn off Interstate 75 in Lenoir City and a member of the Visitors Bureau board, said business in 2013 was about the same as in 2012.
He said the hotel does get some residual business from the fishing tournaments and other events, even if they don't have a preponderance of direct sales, adding that the hotel "definitely noticed an uptick" during the tournaments.
"Even if they don't stay with us we get some activity off that because that's just that many more rooms that are off the market off this exit," Reagan said. "So we get some activity even if it's not directly. I say this all the time — let's say if Hampton (Inn) fills up, we benefit from that because that's that many rooms off the market and Hampton will refer to us if they have walk-ins, and we do the same for them."
Reagan said the hotel saw a significant increase in customers two years ago.
"In 2012, we saw a noticeable uptick from 2011, but it's kind of fell stagnant compared to that increase," Reagan said, noting that he was looking on the bright side heading into 2014.
"We're an interstate location, and 80 percent of our business is walk-ins, daily walk-ins, whereas a suburban location would have 80 percent reservations," Reagan said. "It's just one of those things. I don't have any special events or any groups on the books yet, but you never know. We're looking forward to it though. We're optimistic."
Return investment
The Visitors Bureau receives $30,000 for its operations from Lenoir City and $5,000 from the city of Loudon, along with 29 percent of the hotel-motel tax coming from the county. Tourists pay a 5 percent hotel-motel tax in Loudon County and an additional 5 percent for hotels located in Lenoir City for a total of 10 percent in local taxes, not including state and federal. The city of Loudon does not have a hotel-motel tax.
Visitors Bureau officials said the organization consistently delivers its share of tourism dollars compared with the amount of local contributions from the three entities.
"Since 2010, we've been able to increase the dollars spent in our county and the people coming here without increasing the percentage of the hotel-motel tax we receive from the county or the dollar amounts we receive from Lenoir City or the city of Loudon. Those have remained the same," Pangle said.
"Each year we've been able to bring in more than that returned back to those entities from hotel-motel taxes or from sale taxes that are oriented toward tourists," Pangle added.
Matlock said as part of the last fishing tournament, Lenoir City contributed about $5,000 toward the event.
"The increase in sales tax revenues and hotel-motel tax revenues and things, they exceeded the $5,000 investment from Lenoir City just from that one event, so they made their money back off the taxes we generated," Matlock said. "To me that's a no-brainer."
Matlock said he thought the three entities were getting a positive return on their investment to support tourism.
Author: Jeremy Styron
Source: News-Herald
January 21st, 2014
I hope everyone will join me at the Official Ribbon Cutting Ceremony of the new Greenback School in the new gymnasium at 5:00 today!