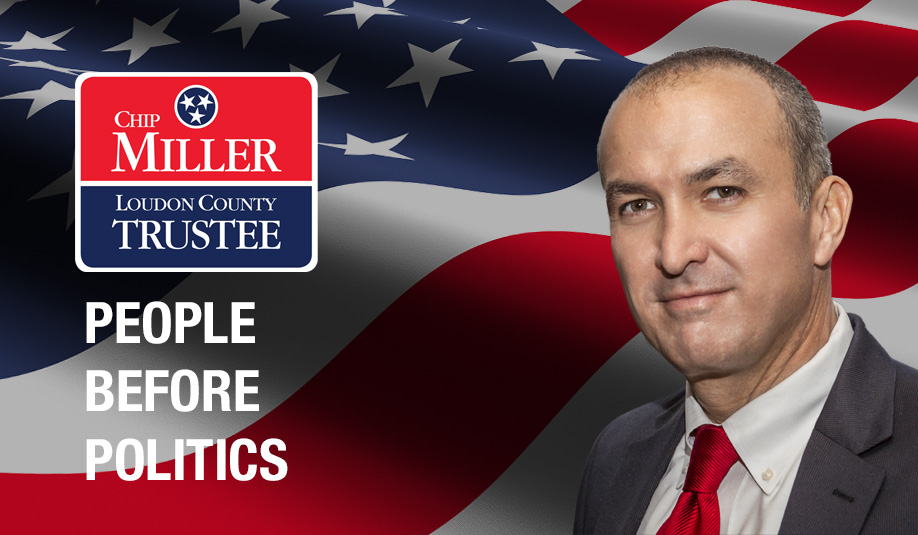 Trustee Duties

The trustee serves three primary functions: (1) collecting all county property taxes; (2) keeping a fair regular account of all money received; and (3) investing temporarily idle county funds.[...]

More

About

Chip Miller currently serves as Loudon County Trustee. He was appointed by the Loudon County Commission in early January 2013 and diligently manages [...]

More

Pay Taxes

Search and pay property taxes online. Our goal is to provide the most convenient ways to pay taxes.

Pay Taxes
Trustee
The Trustee is the county's banker and tax collector. The trustee, who is elected to a four year term, maintains control of county funds until they are distributed on a monthly basis to government agencies. The trustee oversees a total annual cash flow of all county finances.
Based on property tax assessments provided by the assessor's office and the property tax rate as set by the County Commission, the trustee determines the amount of your property tax bill. Tax bills are mailed in September and become delinquent if not paid by the last day in February of the following year. As tax collector, the trustee processes all tax bills and collects all money owed.
The Trustee's Office is committed to providing quality service to you, our taxpayers, and anyone having business with the Trustee's office. In an effort to bring you the ability of viewing and/or paying your taxes on line, we have partnered with private business to bring you this convenience. We believe that giving you this choice will help those that cannot make it into our office. We still look forward to seeing and talking to each one of you who choose to pay in person. We hope that those of you who opt for this method of payment or use it to research your taxes will find it helpful.
Sincerely,
Chip Miller
Loudon County Trustee
News Feed
Trustee's Office making more changes…
County changes banking strategy By Jeremy Nash [email protected] Following Loudon County Commission's recent approval to establish a new check clearing system to pay vendors through First National Bank, Loudon County Trustee Chip Miller hopes to soon have all accounts transferred from BB&T to begin what he believes is a more efficient way for the county to […]
County changes banking strategy By Jeremy Nash [email protected] Following Loudon County Commission's recent approval to establish a new check clearing system to pay vendors through First National Bank, Loudon County Trustee Chip Miller hopes to soon have all accounts transferred from BB&T to begin what he believes is a more efficient way for the county to […]
County changes banking strategy By Jeremy Nash [email protected] Following Loudon County Commission's recent approval to establish a new check clearing system to pay vendors through First National Bank, Loudon County Trustee Chip Miller hopes to soon have all accounts transferred from BB&T to begin what he believes is a more efficient way for the county to […]
Loudon County Changing Banking System
Hugh G. Willett 4:33 PM, Dec 2, 2014 local news LOUDON — Loudon County is making changes to its banking strategy to increase return on investment, reduce fees and streamline the process by which bills are being paid, Trustee Chip Miller told county commissioners Monday. The commission unanimously approved an amendment to create new checking […]
Hugh G. Willett 4:33 PM, Dec 2, 2014 local news LOUDON — Loudon County is making changes to its banking strategy to increase return on investment, reduce fees and streamline the process by which bills are being paid, Trustee Chip Miller told county commissioners Monday. The commission unanimously approved an amendment to create new checking […]
Hugh G. Willett 4:33 PM, Dec 2, 2014 local news LOUDON — Loudon County is making changes to its banking strategy to increase return on investment, reduce fees and streamline the process by which bills are being paid, Trustee Chip Miller told county commissioners Monday. The commission unanimously approved an amendment to create new checking […]
More