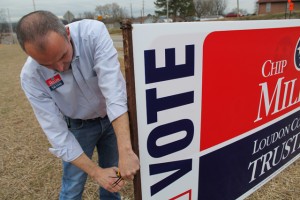 With the May primary petition deadline closed and the Loudon County Election Commission officially certifying names on the ballot Thursday, campaigning has started to ramp up for candidates old and new.
Registered voters will get the opportunity to pick from 36 candidates in hopes of filling the 18 seats up for election when the county's week-long early voting begins April 16 and rolls up to Election Day on May 6.
County resident Van Shaver said he chose to run for office to provide some experience on a Loudon County Commission that finds itself losing three incumbents. Commissioners Roy Bledsoe, Brian Jenkins and Don Miller have opted not to seek re-election. Bledsoe, longtime commission chairman, leaves after 48 years of service.
"Well, I've served on county commission and I've served on the (Loudon County) school  board and you've got a number of retirements this time around," Shaver said. "A lot of older, experienced folks are leaving and I guess I feel like I could maybe bring a little bit of experience back to the commission having been there and done that before."
Shaver said he served on the commission in 2002-06, on the Loudon County Board of Education in 2008-12 and ran for county mayor in 2006. Once candidates are certified on the ballot, Shaver said he will begin making a push for campaigning, going door-to-door and sending mail-outs.
If elected, Shaver said he will eye a tighter county budget.
"I'm a well-known extremely fiscal conservative person, so my interest is always going to be in budget expenditures, spending money, how we're spending the money, what we're spending the money on, if it's in the best interest of the taxpayers, if it's — you know, when we spend the money ourselves if it was our money we were actually putting out," Shaver said. "Mine's really about small government and tight, tight budget."
Running against Shaver for District 5, Seat B of the commission is Marvin Stanley and incumbent Sharon Yarbrough.
Rollen "Buddy" Bradshaw II is putting his name on the ballot in May in hopes of cutting county governmental spending. Bradshaw will be running against incumbent County Mayor Estelle Herron.
"I think that we spend way too much money," Bradshaw said. "Our county government's going at a pace that I think is unacceptable. I think we can do things better and I think we need better spending, not more spending for our county. … Where can we get it done, where can we do something cheaper? Where can … (we) cut the nickels and dimes out to where we just rein it in really?"
The first-time candidate began campaigning in January, speaking with people and placing signs in yards. So far, the reception has been well received, he said.
"I think people are tired of the big spending and the economy the way it is now, folks are having to really watch their money and I think they expect their county government to do the same," Bradshaw said.
Sherri Colvard will be running for county trustee.
"I have 20 years (of) accounting experience and I believe that I would bring more knowledge from that experience to the trustee office," Colvard said in an email.
After being appointed the job by county commission in January 2013, Loudon County Trustee Chip Miller will be seeking his first full term in office. Miller said campaigning began in November with a fundraiser of about 130 people at the WindRiver Manor House, along with a few small get-togethers. Campaign signs have been scattered throughout the county. Placements of yard signs should begin about the second week of March, with the possibility of locating signs at a "couple of strategic places" earlier, he said.
"I'm doing door-to-door, trying to — obviously in Loudon County it's tough to get to every door, but we're going to make an attempt to get to as many doors as possible," Miller said. "We're also networking through social media and … we have a list of other accomplishments that we hope to get done for the campaign. … We plan on covering the whole county, but right now we've got them in folk's yards, we've got them in businesses, we're trying to cover all areas of the county."
Miller estimated his election campaign will cost about $20,000. If re-elected, Miller said he would like to see his staff continue to provide "professional, efficient and courteous" service to residents.
"So we try to be professional, efficient and courteous to all taxpayers and work with them to solve any problems," Miller said. "We also administer the tax relief program, so we deal with a lot of elderly or disabled folks. We try to work with them and have good constituent interaction."
Herron's second political campaign as county mayor kicked off Saturday at Highland Park Ruritan, with about 183 people attending, she said.
"When you're running for the first time, you don't have that name recognition," Herron said. "So, for as many times as I have run now, like I said this will be my fifth, going to be my fifth campaign, your name recognition is already out there, you're not trying to establish that. I'm probably not going to put my signs out until the middle of March. People get so, you know, we all get tired of seeing them. So I'm going to wait until about 30 days prior to early voting."
Herron began her tenure as county trustee in 1998 and stayed in that office until 2010 when she ran for county mayor.
Gaining more evening daylight when the time changes in March will prove beneficial for campaigning, Herron said.
"Right now's (a) real hard time to campaign," she said. "You hit this subdivision and you may hit that subdivision. You're just going to strategically (campaign). You may go out on a Saturday hitting who knows how many, it just depends on how it rolls."
Herron listed a number of issues she hopes to help tackle in her new term, including reworking the Loudon County Planning and Codes Enforcement Office, hiring a solid waste director and expanding Loudon High School to accommodate more classrooms.
"The next thing I see on the school end will be adding a wing out here at the high school, and then the only other thing I see is the jail," Herron said.
For a full list of candidates, view the "May 2014 County Primary petition information" section under the "Information for Voters" tab at http://www.loudoncountyvotes.com.
Author: Jeremy Nash
Source: News-Herald